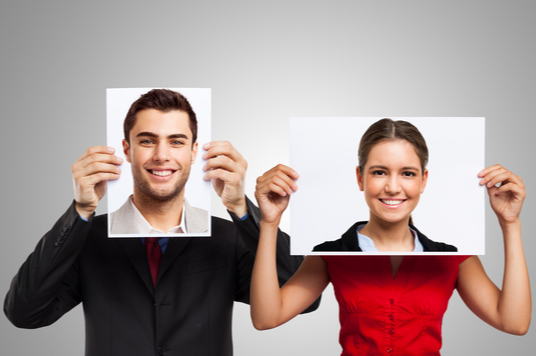 Simple Ways To Change Your Look
Wondering how to change your look in some easy, super simple steps? No need for dramatic changes or giant salon splurges here! Let's get started shall we?
Change Up Your Eyeliner
It's so easy, so simple, and yet impactful. For instance, we all know that lining your upper lash line with black eyeliner is striking and bold. It creates the illusion of fuller lashes. But if you want a softer and brighter look, opt for gray. If you want a subtle smokey eye, try brown. For a trendy look, go for navy, because nothing says more "catwalk."
And if you want your eyes to look bigger, pair the black top liner, with a bottom white one. White on the bottom lash line creates the illusion of a bigger, wider eye. Unfortunately, because we blink so many times a day, you can expect to reapply this one 2-3 times a day.
Change Your Hair Color Without Committing
For $24, you can now buy believable, convincing, and gorgeous temporary hair color. And you don't need to commit to it. You simply wash it out when you're ready to go back to normal.
Before you overlook this option, no, it does not look fake or sticky. You will not have gunky hair with these products. Plus, it works on all hair types, sprays on evenly, and feels weightless.
That means if you have black hair, this still works on it, without having to bleach your hair to get any results! But that being said, you will need to build more color onto it so that it shows.
This is perfect for those who can't fathom the idea of going to the salon every month to deal with the hassle of hair coloring anymore. It's a quick, gorgeous fix, and it comes in all shades, from blue to silver, yellow to red, and even teal.
Brighten Your Smile The Introvert-Approved Way
We've all been there: you scrutinized yourself in the mirror and now you can't unsee your yellow teeth. But… you're not really trying to leave the house today. You're lazy, you're in your comfiest sweatpants, and those whitening strips… they're not that cheap.
Well, the good news is you can walk two feet and find a solution right in your kitchen. Simply dig through the baking items, and pull out the baking powder. Mix it with a little toothpaste and water, and brush your teeth as you normally would, paying a little extra attention to the front, of course.
And presto, you're done. You have a white smile, without having left the house, or spent a dime. Unless you count baking soda of course.
By the way, this trick works with both baking soda and powder, so whatever you have available is fine!
Skip The Wait: Get Hair Extensions
No, not the painful ones that actually leave bald spots and thinning hair problems over time. We're talking the singular piece hair extension that is more than enough for most women. Think one long head sized hair extension. It's as long as your head is from ear to ear, which means you skip the hassle of adding them all in piece by piece.
Furthermore, they're not sewn in, so you can remove them as you please. You just clip it all in with some simple, hassle-free presses of the finger. They're under 2 lbs. so they're not going anywhere.
Find the right ones, highly-rated preferably, and you can have yourself a very quick solution. Rather than damage your hair, deal with the pain, or high price tag, you can wear this whenever you really miss your long hair.
Change How You Part Your Hair
Yes, it's that simple. If you part your hair on the left, try the right. If you do it on the right, try the left. If you do it in the middle, choose either one. The point is to change it from the normal go-to, because you'll be in for a surprise at the difference.
It's kind of like eyebrows: no one ever thinks they matter that much until they do something different to them and boom! Their face takes on a whole new look.
Another option, if you have the hair for it, is to just not part your hair. Those who have wavy hair, even beachy waves, naturally are blessed with perpetual bedhead, or sex hair, as its known. If you're one of these people, you can just run your hand through your hair once and let it do whatever it wants. If it winds up in a part, fine, but it'll change throughout the course of the day.
Transform Your Leggings
Leggings get a bad rep. They're comfortable, they're easy to pair with things, they're pretty hassle-free…
And people call them lazy, just like sweatpants.
But honestly, let's go back to the whole easy to pair things. Sure, pairing leggings with, say a t-shirt, and some sneakers looks a little lazy. But what happens when you put on some trendy, heeled booties and a sharp, smart blazer?
In other words, it's not the leggings that are lazy, it's the women wearing them who are. And frankly, some days you just need a mental health day. Everyone is allowed to be scruby every so often, right?
Plus, you redeem yourself when you go around strutting your stuff on days when you put effort into what you pair the leggings with.
Change Your Whole Beauty Routine By Not Actually Changing It
Want to know what all the fuss is around hydrating, potentially illuminating primer oil is? Well, adding a drop or two to concealer or foundation makes it easier to blend, gives you a dewy glow, and makes your makeup look more natural. It basically makes you look like you're not wearing any makeup, but you somehow have flawless skin anyway.
Every woman's dream. Plus, no one is saying you can't go back in and touch up minor areas with a little more concealer, say for blemishes.
Oh, and it even works with powder foundation, so everything is just better with this stuff mixed in! Your face will thank you for it, and your makeup look will glow.
Protip, if you have sensitive skin, opt for a primer oil with no essential oils in it. There are many brands who carry options for under $15.