Look Expensive On A Budget
Wondering how you can look expensive while still adhering to a sensible budget? We have some amazing ideas you need to try out sooner than later, friends.
Take Full Advantage of Deals
Here's the thing about deals: sometimes you can find the best, top notch, designer brand items on sale for relatively cheap. Assuming you don't go overboard, and assuming you're comfortable with the idea of selectively shopping for quality over quantity, then you're in the clear on this one.
Some good tips for this are to really not settle for anything less than 50% off. Any less than that, and you're not really getting a deal at all. Furthermore, go into the store with a specific number in mind. Say you don't want to spend more than $200 on clothes and accessories this month. That's fine, just carefully spend on the items that are high-end, on sale, and fit within that budget. Even small little designer bracelets count for something.
Look at it this way: it may seem like a small purchase now, but over time, over the years, your closet will look like you spend thousands of dollars more than you actually did.
Don't Overthink the Stores
Seriously, don't. You'd be surprised at the things you can find in stores you wouldn't otherwise expect, let alone shop at.
For instance, take department stores. Many people with strict budgets absolutely refuse to shop at department stores for fear of high price tags, but it's actually more than possible to find deals there. Granted, they don't come around often, and it certainly takes some good timing, but there have been deals on items such as high end beauty products and clothing for more than half off.
So, moral of the story: don't overthink the stores. You don't need to shop at bargain stores exclusively to get good deals. A smart shopper knows that deals can be found anywhere, as long as you're willing to look.
photo3.jg
Shop Online
Unless you've been living under a rock, you shop online from time to time. Maybe even regularly. Now that's smart of you, and here's why: businesses carry more online inventory than they do in store, and that means there's more opportunity for sales. Furthermore, many business have exclusive online coupons and discounts. That means while you may be spending $500 on a handbag in store, you may only pay a fraction of that online for a slightly different version.
As an additional bonus, there are plenty of sales aggregate websites that make deal hunting simple. These websites find all the deals available at basically every store, and then ranks them according to deal quality. If it's a good deal, you know it. If it's a terrible deal, they tell you that too. People who use these websites have a knack for providing insightful comments too, so pay attention. You may get additional tidbits, such as free shipping on your order.
Remember, Gold Can Be Gaudy
Seriously, gold is only good when it's real. If it's fake, well, putting it bluntly, it looks terribly cheap. It looks painted on, like it will flake off at any second. And that's not a good look. That doesn't make you look expensive in the slightest. If anything, it makes you look cheaper than if you had just chosen not to wear anything blingy or shiny that day.
So, refrain from anything that's fake gold. We're talking fake gold zippers on handbags, golden belt buckles, excessive gold and glittery eyeshadow, and even gold nail polish. You can do better than all of that. Remember, when in doubt, unless it's real, leave the fake stuff on the rack.
Cleanliness Is Holiness
Let's highlight this point with an example. Take two women who are surprisingly wearing similar outfits. Little black dresses, with some heels, a cross body bag, and some type of jacket, or cardigan. They both opted to wear their hair down, and place some sunglasses on the tops of their heads, as if sitting in the shade.
Now imagine that one of them has scuffed up heels, and maybe a few too many pet hairs on the dress. Maybe there's a hole or two on the cardigan, but it's not intentional. You know this because it doesn't look manufactured distressed in any way, it's just a random, unsightly hole or two on the cardigan's edges. And the sunglasses, well they're scratched.
So, when you see the two women, who do you associate with more money? The one without all the outfit damage, that's who! The other one, although wearing a strikingly similar outfit, is looking disheveled, as if she's had these items for a little too long.
In other words, when you select an outfit for the day, make sure your stuff doesn't have holes in it. Make sure any potential stains are taken care of immediately. Use a lint roller to reduce any evidence of your pet's love. Clean your shoes every so often, just so they stay beautiful for longer. And please, if you feel like your items have run their course for you, don't hesitate to donate them to someone in need.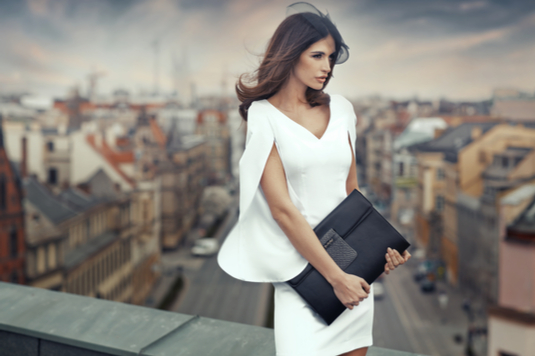 Less Is More
You may associate jewelry, eye-catching makeup, big handbags and tall heels with wealth, but too much of that combination just makes you look like you're trying too hard. And no one who is actually living on the expensive side of things actually… tries hard. They don't have to.
No, instead, the trick is to be very selective about what you wear. Assume you can only wear one bracelet, one pair of earrings, and maybe one ring. If you want to wear a necklace, take off the bracelet. And if you have a large handbag, consider taking off the bracelet even if you aren't wearing a necklace already.
Careful balance is the most important thing.
This also showcases why quality matters more than quantity. If you're not actively wearing a ton of stuff, you're not having to buy an enormous amount of items. You can be very selective about items and sale prices, knowing that you'll always look expensive wearing only what makes sense at any one given time.