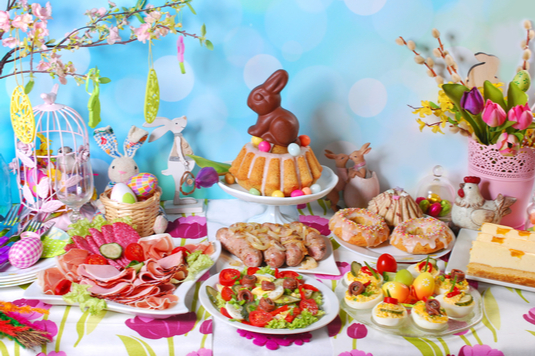 Healthy Easter Recipes
Wondering what to make for Easter this year? Well, it doesn't have to be something high in fat and sugar. Here are some recipe ideas if you're trying to spoil people, and still stay trim.
Salmon With Cucumber And Radish Relish
For a grand total of 30 minutes, you can have yourself a nice piece of salmon, and a refreshing relish on the side. All you need to do is gather up 2.5 lbs. of salmon, skinned and deboned, 3 tbsp of extra-virgin olive oil, some coarse salt and pepper, ¼ cup of radishes, ½ cup of diced and peeled English cucumber, 1 tbsp of horseradish, and 3 tbsp of thinly chopped scallions.
First preheat the oven to 425 °F. Place the salmon on a parchment-lined baking sheet and check for any bones your fishmonger may have missed. Then drizzle with the oil (about 2 tbsp), season with salt and pepper, and roast it for 8-10 minutes. You want to pull it out when it's just cooked through, it will have opaque edges.
While that's in the oven, combine the radish, cucumber, horseradish, scallions, and the remaining oil in a bowl. Season with salt and pepper, and serve with the salmon.
This makes 6 servings.
Asparagus Topped With Breadcrumbs And Lemon Zest
For a quick side dish everyone will gladly munch on, gather up 1 pound of trimmed asparagus (snap off the bottoms of the stalks, so there's no white left), 1 tbsp of extra-virgin olive oil, some salt and pepper, 1 tbsp of unsalted butter, ½ cup of coarse breadcrumbs, and the grated zest of 1 lemon.
Protip, you can make your own breadcrumbs from stale bread, simply pulse them in a food processor after some light toasting. Season as desired with herbs. Otherwise, Japanese Panko breadcrumbs work well with this.
First preheat the oven to 425 °F. Place the asparagus on a rimmed baking sheet, so you don't create a mess in your kitchen, and drizzle the extra-virgin olive oil. Turn the asparagus around and massage it so it's entirely coated. Then sprinkle salt and pepper before roasting for 12-14 minutes. You want the asparagus to be crisp, with golden tips.
While that's in the oven, heat up some butter in a skillet and add in your breadcrumbs once it's melted and hot. This will toast them lightly, and infuse some nice, buttery flavor everyone loves. Season with salt and pepper, turn off the heat, and stir in the lemon zest. Once the asparagus is done, plate it on a fancy dish, and top with the breadcrumb mixture.
This makes 4 servings.
Omelet With Greens And Pecorino
This is a great dish if you're planning on serving brunch, because everyone loves a good omelet. Simply gather up 8 large eggs, 1 tbsp of extra-virgin olive oil, black pepper and salt, ¾ cup of baby arugula, 2 tbsp of grated Pecorino Romano, and about ½ cup of green beans.
In a pot of salted, boiling water, blanch your green beans until they're bright green and tender—about 2 minutes. Then quickly transfer them to an ice bath (bowl full of ice and water) so they don't overcook.
Then heat a large skillet, add in your oil, and add in your whisked eggs. Season with salt and pepper. You want the omelet to be just set, which takes about 5-7 minutes. It helps to tilt the pan and lift the sides of the set egg so that uncooked egg runs down onto the pan.
Once that's just set, top half of the omelet with the cheese, green beans and arugula. Flip the other half of the omelet over the top and cook for about 30 seconds just to melt the cheese.
Finally, transfer the omelet onto a nice plate, slice into wedges, and clean up any messes before serving.
This makes 4 servings.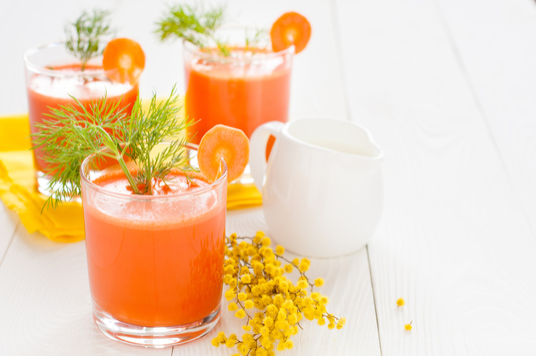 Carrot Juice Mimosas
Channel your inner rabbit with this recipe for carrot-juice mimosas! It takes a grand total of 10 minutes, and will guarantee a truly Easter feel to your celebration. How can you not get into the spirit of things when you have an orange drink in your hand, after all?
First gather up 1 ½ cups of fresh carrot juice, 1 cup of orange juice, and 750 ml (usually a bottle) of sparkling white white. Ensure everything is chilled through before mixing this drink, or else, you'll have a flat, warm drink on your hands.
Simply combine the juices in a pitcher, then fill champagne glasses halfway with the mixture. Top with wine and serve immediately.
Light Cherry Cheesecake
If you have time to spare, and need a dessert, then this is the recipe of your dreams. Super simple, yet delicious, it's sure to impress.
For starters, gather up nonstick cooking spray, 8 graham crackers (3-by-5 inch), 1 tbsp of vegetable oil, 3 cups of 1% cottage cheese, 8 ounces of reduced-fat cream cheese at room temperature for easy handling, ¾ cups of sugar plus an additional 2 tbsp, ½ cup of reduced-fat sour cream, 4 large eggs, 2 tbsp of all-purpose flour (nothing fancy), ½ tsp of salt, 1 tsp of vanilla extract or 1 vanilla bean pod, and 24 ounces of frozen cherries.
Once that's done, it's time for the fun part. Preheat the oven to 325 °F, and set the rack to the lower third. Get your 9-inch springform pan and place the rimmed side of the pan facing down. Coat it with cooking spray, and line the sides.
Grind the graham cracker, add the oil, mix, and add them in the pan. Press them firmly into the bottom, and bake for 15 minutes until light brown.
Next, blend the cottage and cream cheeses together until smooth and glossy, about 5 minutes. Add in ¾ cup of sugar, your sour cream, eggs, flour, vanilla and salt, before blending some more. You want this to be smooth.
Pour the filling into the pan, the temperature of the crust does not matter, and bake for an hour. The cheesecake will be barely set, so turn the oven off and leave it in there for another hour.
Once it's done, transfer it to a wire rack, let it cool at room temperature (2 hours), and then refrigerate for 3 hours, minimum.
Meanwhile combine cherries and sugar in a skillet until thick, about 15 minutes. When you're ready to serve, unmold the cheesecake, peel off the paper, and top with the cherries.